Fairtrade Fanatics Get Ready for Fairtrade Fortnight with fairandfunky!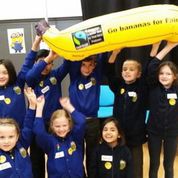 Following the success of the 'fairandfunky Fairtrade Conference for Schools' in February 2015, this Fairtrade Fortnight, fairandfunky will host not one, but TWO Fairtrade conferences for schools throughout Kirklees! And both are fully booked!
The conferences, held at the Creative and Media Studio School in Huddersfield, and at the Indian Muslim Welfare Society in Batley, will ignite enthusiasm and interest in over 160 pupils and 40 teachers, to maintain awareness and understanding of Fairtrade, and ultimately celebrate Fairtrade across the world.
A huge thank you to our two Conference Champions Traidcraft and Stafflex for their sponsorship of the events. Their commitment to global education on a local scale makes a huge difference to fairandfunky, and to all the schools involved.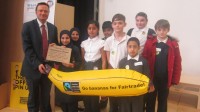 The two events follow a series of successful schools conferences held by fairandfunky throughout 2015 on various ethical and sustainability themes. The two latest conferences feature interactive workshops involving creative arts, real life stories, and the eagerly anticipated chocolate tasting. The 160 school children attending the events will take part in workshops from local and national providers such as fairandfunky, Fair Connections, The Fairtrade Foundation, Coeur de Xocolat and Fair Grounds, taking the delegates around the world with Fairtrade: from Ghana to the Philippines, Nepal and Pakistan.
fairandfunky empower people to take little steps to change the world, these Fairtrade conferences will help schools progress on both their Fairtrade School Award and their 'Eco-Schools' journey.  "fairandfunky explain important issues in an engaging and thoughtful way" said Mr Aspey from Meltham C of E School, who are attending the 'fairandfunky Fairtrade Conference for Schools' at the Creative and Media Studio School on Friday 4th March.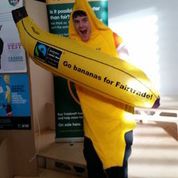 We're so thrilled that last years conferences were so successful, that there was an even higher demand for the Fairtrade conference for schools this Fairtrade Fortnight, we're looking forward to engaging with so many of or local schools who are excited by Fairtrade, and who want to celebrate Fairtrade with fairandfunky! And in May we're running another conference in Halifax as part of the town's campaign for Fairtrade status.
Thank you to all our Conference Partners involved in this years conferences: Social Progress, Suma Wholefoods, Liberation, Ramsdens, Shared Interest Foundation, JTS and Bala Sports.
A range of Fairtrade workshops are available to book at anytime! Get in touch to find out more or to organise a bespoke session for your school.
Sign up to our email newsletter to keep up to date with new products and our news!