Fairtrade Conference News!
On Thursday 7th June, The Creative Media and Studio School opened its doors for the 4th year running to schools from across Kirklees to come together to learn about the world around them and be inspired to take their own little steps to change the world with Fairtrade. And this year we had something new at conference to help change the world……..The fairandfunky smoothie bike!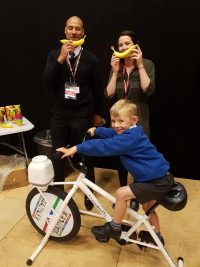 Sponsored by Stafflex this bike has the power to change the world in the following ways:
Keeping you fit and healthy, and ready to take action!
Saving energy – just uses pedal power to make delicious smoothies
Using Fairtrade fruit
Encouraging re-using and recycling – the fairandfunky smoothie bike never uses throwaway cups and all used juice cartons are recycled into wallets!
Using up food waste
Following a smoothie demonstration all students embarked on a Fairtrade Adventure with Suma Wholefoods, Pockets Theatre, Coeur de Xocolat and fairandfunky…….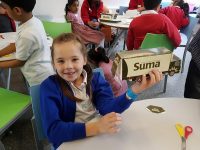 With Suma Wholefoods delegates discovered the journey of products from farms to fruit bowls, fields to forks and learnt how Suma Wholefoods run their business as a worker's co-operative. Children were fascinated by the supply chain process and each made their own lorry to make their own Fairtrade deliveries!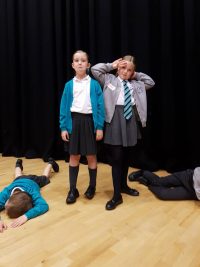 With Pockets Theatre delegates took on different roles within the supply chain of bananas to create 'Fair' and 'Unfair' dramatic poses. Students considered how these made them feel, and how Fairtrade empowers producers and consumers!
During the fairandfunky workshop students discovered what happens to the supply chain when chocolate companies go Fairtrade! Delegates learnt that as consumers, we have power to make a difference.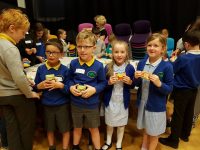 All students made a recycled juice carton wallet to focus their thinking when shopping. Inside each wallet was a Fairtrade sticker to prompt the question: 'Have I bought something Fairtrade today?'
With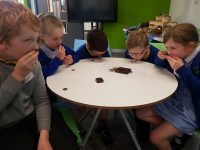 Coeur de Xocolat students headed to Ghana to discover all about the journey of chocolate from bean to bar, delegates watched a video about life as a cocoa farmer and took part in a chocolate tasting session using all five of their senses!
After a busy lunch making lots of Fairtrade smoothies, students gathered to listen to a presentation from Conference Champion Sponsors Suma Wholefoods, who shared how important Fairtrade is to their business and to their customers.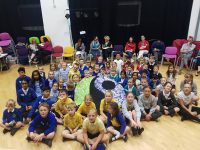 The Conference closed with certificate presentations to every school from Suma Wholefoods. Thank you to all the students and teachers for taking your own little steps to change the world at the fairandfunky Fairtrade Conference.
And a HUGE THANK YOU to our Conference Sponsors
Holmfirth Co-op
Brilliant local businesses taking action to change the world!
BOOK YOUR SCHOOL A PLACE TO JOIN OUR 2019 CONFERENCE – please email sophie@fairandfunky.com for a booking form.
Sign up to our email newsletter to keep up to date with new products and our news!