Fairtrade Conference at Halifax Minster
Bookings for The fairandfunky Fairtrade Conference for Schools: 'Take a Break with Fairtrade' on Friday 10th March 2017 at Halifax Minster are OPEN!
Click here to download your booking form!
The fairandfunky Fairtrade Conference: 'Take a Break with Fairtrade' brings together Primary Schools from across Calderdale to celebrate Fairtrade Fortnight. The conference will ignite enthusiasm and interest in both pupils and teachers to maintain awareness and understanding of Fairtrade and how it can be taught within busy classrooms.
Interactive workshops involving drama, literacy, real life stories, and chocolate tasting from fairandfunky, Tom Palmer, Pockets Theatre and Fair Grounds will inspire delegates to 'Take a Break with Fairtrade!' This is the only Fairtrade conference in Calderdale to combine Fairtrade and the arts, offering professional development for teachers and innovative learning for students.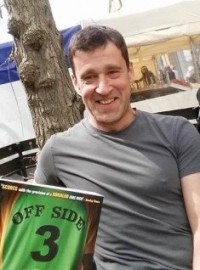 We're delighted to welcome Tom Palmer to this year's conference in Halifax, and Tom is excited about joining us too!
"I am really looking forward to the Conference. I'll be talking about my research trip to Ghana where I went to find out about Fairtrade in chocolate and in football to research Off Side. Particularly about how meeting Fairtrade families changed my life. I love making positive choices about how I spend my money. Choices that can make a huge difference to families and communities around the world."
All students will receive a free copy of Tom Palmer's brilliant book 'Off Side' along with a goody bag of Fairtrade treats.
The Fairtrade conference is supported by The Fairtrade Foundation and Eco-Schools, and will help schools progress on both the Fairtrade Schools Award and 'Eco-Schools' journey.  During lunch delegates will be able to enjoy networking opportunity with sponsors and workshop providers and shop in the ethical marketplace. The event will close with certificate presentations from Holly Lynch MP.
For further information please contact helen@fairandfunky.com
Thank you to Conference Champion Sponsors Suma Wholefoods.
Sign up to our email newsletter to keep up to date with new products and our news!