fairandfunky workshops by the sea and lunch with the Pope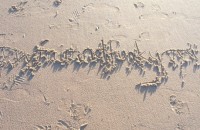 The lovely hot weather has made us wish we were by the sea again! And, last month, that is just where we were: in Southend-on-Sea.
Back in October we met members of the Southend High School For Boys Fairtrade Council at the Fairtrade Foundation Supporters Conference; sharing ideas and inspiration at the "Engaging Young People" seminar. One member of the council, Luke, made lots of notes, took our details and went back to school…..to tell everyone who listened about fairandfunky.
Thanks to the powerful persuasion skills of Luke, we were invited to join in the Year 9's RE day with our "Street Paper" workshop, and a specially devised World Trade Organisation debate.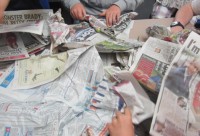 "Street Paper" develops knowledge and understanding of life as a street child in India, through discussion and role play. The students needed to demonstrate excellent teamwork as well as strong speaking and listening skills, as they were challenged to make as many paper bags as possible using the resources available. With 75 Year 9 boys in each session this was a demanding task!
"The paper bag game involves you really well. Was interesting and factual."
Each group was paid according to the quality and quantity of the bag produced. They were paid the 'real' wage for the work they did and soon discovered that despite all their efforts it is very difficult to earn enough money for their family to survive.
"I really enjoyed the paper bag making, although rather different it was an enjoyable task."
The aim of the workshop is to encourage participants to play an active role as citizens; reflecting on social and cultural issues. We highlight the role individuals have on the world and help participants begin to understand how their own choices, and behaviour, can affect global issues as well as political and social institutions.
"It made me feel more aware about my surrounding environment and the planet"
During lunch we were treated to lunch with the Pope – Luke has the photos to prove it – and the Fairtrade Council. We shared the new Divine Chocolate with caramel thanks to the generosity of Fairtrade Sleuth and discussed the merits of The Fairtrade Foundation Supporters Conference. And ate cake.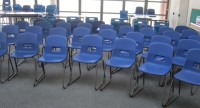 During the afternoon session we facilitated a mock World Trade Organisation debate. Each student was given a country to represent at the 'talks'. Some, from USA or France for example, joined together with fellow country members. Others, from St. Vincent or Chad were the lone representative.
"I enjoyed the debate, it allowed us to express our view about things."
Representatives from each country were invited to speak, some countries were hardly heard in the debate; overpowered by those with more members present.
A number of discussions took place, using statements based on the Millenium Development Goals.
"I was interested because I was included. I also felt engaged because I learnt and heard many opinions."
The aim of this workshop was to again encourage students to think about their sense of place in the world, and that as individuals we have the power to make a positive difference in the world; through the way we act, what we wear, where we shop and what we do.
"I felt challenged. I learnt the importance of buying Fairtrade items and who it effects."
Each and every one of us can make positive choices that will change the world, and we hope that by taking part in our workshops, the students at Southend High School for Boys start to think about their sense of place and the positive steps each of them can take: locally, nationally and globally; to make a difference.
We end all our workshops saying that it is your step to make a difference that will help change the world. Little steps from each and every one of us to make a change will, together, make a real difference to peoples' lives. Little, simple steps can, and do, change the world.
Contact us to find out more about the workshops we offer and book us for your school.
Sign up to our email newsletter to keep up to date with new products and our news!