fairandfunky Workshop Review: 'Summer COOL' with Aspirational Learning
For the beginning of the summer holidays fairandfunky joined students at Spen Valley High School and Rastirick High School at 'Summer COOL' with Aspirational Learning to lead workshops with a group of 10 and 11 year olds.
All fairandfunky workshops encourage participants to look at the world around them and empower people of all ages with the knowledge that their actions can have a positive impact on the world around them; both locally and globally. The workshops focussed on Fairtrade and recycling as ways in which each of us can take little steps to change the world.
The afternoon workshops focussed on the environment and the students were asked to brainstorm environmental issues that were important to them – on a local and global scale. From deforestation to littering, poaching to flooding; a range of issues were listed and discussed. Some sharing their own individual beliefs for particular causes!
fairandfunky lead a discussion around recycling and shared a few facts to get participants thinking about the impact of their individual actions. Did you know the average family throws away 6 trees worth of paper every year? Did you know a plastic bag takes over 300 years to decompose? Do you reuse your plastic bags? Do you recycle cardboard? How we deal with our waste has an impact on local and global environments. Recycling and reusing are positive behaviour changes we can all do to make a positive difference, and reduce many environmental problems.
With this in mind the students were given a challenge. Using a box of recycled materials, they had to create something that would 'Change The World'. Each group chose a particular topic to address and set to work. The results were very impressive: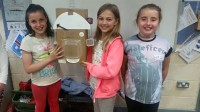 The Anti-Bully Machine. This machine is used in schools to help those being bullied to identify ways they can be helped.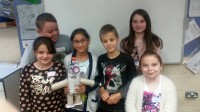 'B.O.B.' is a grafitti removal robot, with an extending power-wash arm & a litter net!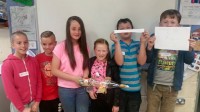 The pollution exterminator – a solar powered plane which flies around & sucks pollution from the air.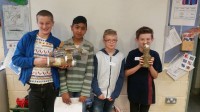 A pollution preventing submarine, which cleans the oceans of litter, oil spills & "general bad stuff".
Congratulations to all the students for taking their own little steps to change the world in a fairandfunky workshop.
Sign up to our email newsletter to keep up to date with new products and our news!