fairandfunky FAIRTRADE family funday review!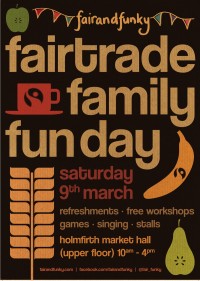 On 9th March 2013 at Holmfirth Market Hall, an idyllic location famous for being home to the long running television comedy series 'Last of The Summer Wine', fairandfunky organised and facilitated a Fairtrade Family Funday. This marked the end of Fairtrade Fortnight and the achievement of Yorkshire Fairtrade, in becoming the first UK county to receive accredited 'Regional Fairtrade Status'. The event was extremely well attended and consisted of many Fairtrade and ethical trade stalls as well as a Fairtrade food and drink taster café and a craft station, where children of all ages could create fantastic objects with recycled materials.
Eduzine spoke with various children who attended the event and they described their day as "fun, really brilliant! fairandfunky and others are excellent. They are helping save the world"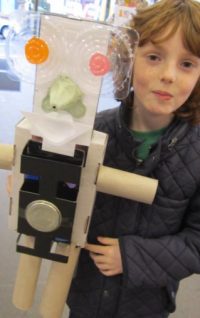 The variety of stalls and range of products and gifts on offer through a number of different independent traders was a feature of the event. The atmosphere was also very relaxing with a buzz of excitement lasting the entire day. Visitors were buying goods including tea, coffee, rice, chocolate and sugar as well as gifts such as purses, bags, scarves, T-shirts, earrings and a full range of other jewellery items. Interestingly, the people we spoke to all said that the quality and competitive prices meant that they were buying to use and enjoy, with the benefit that they were supporting a great cause, rather than buying simply to support a cause. This marks a huge step forward for organisations such as fairandfunky.
Although the Eduzine team are long-time converts to Fairtrade, having established and promoted Fairtrade schools in Southern England since the early part of the Millenium, it was still apparent that new products were adding excitement and choice, with several varieties of Tea and Coffee new to our team. Indeed following a lengthy taster session at the café, our team left with many 'new to us' products under our arms.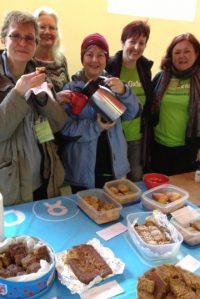 Traders at the event included Not Just A Trading Company, Holme Valley Oxfam, Holme Baked, Holme Valley Fairtrade Support Group and fairandfunky; all of which reported a successful day. Judging by the number of new creations leaving the craft station, under the arms of children and their parents and the lack of materials remaining at the end of the day, the creative young fingers had clearly also enjoyed their day.
Eduzine would like to extend our thanks to all those who organised, worked at, or visited the Holmfirth Fairtrade Family Funday event and made our team feel so welcome. However, an enormous thank you to fairandfunky for leading and facilitating the event and for introducing our team to so many Great Young Achievers and YoungStars! fairandfunky truly is, an organisation taking giant steps to change the world!!
A BIG thank you from us (fairandfunky) too, is extended to Eduzine for making the journey North to visit us, and for writing this review!
Sign up to our email newsletter to keep up to date with new products and our news!