Explore the Outdoor Classroom with fairandfunky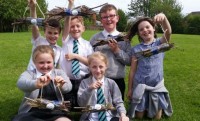 Schools across Kirklees are taking to the school grounds to join fairandfunky in a new range of workshops for the outdoor classroom.
All fairandfunky workshops encourage students to look at the world around them and to think about the steps they can take to change the world. The new outdoor workshops look at the local environment; linking Science, Geography and Design Technology to citizenship and an understanding of your sense of place in the world. And what better place to explore than the outdoor classroom!
Linking into the topic of 'mini-beasts' fairandfunky took the Year 4 class to the outdoor classroom to discover all about food chains and food webs, learning how everything within these food chains is connected. Each student took on the role of something along a simple food chain, but their first task was to work in pairs, asking closed questions, to find out who they were! "Have I got 4 legs?" "Have I got 6 legs?" "Can I fly?" "Am I covered in spots?" "Am I a ladybird?" YES!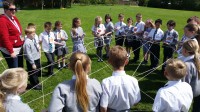 From this the students were grouped into producers and consumers, learning these new scientific terms, as they organised themselves into a simple food chain. But things aren't really that simple…. as the Year 4's soon discovered in the food web!
Energy from the sun is used by the plants to make food for the producers, who are eaten by the primary consumers, who are eaten by the secondary consumers and so on! Each child played a role in the web, and using string to show the flow of energy enabled the children to see how all were connected.
The students then felt the effect on their food web as the plants were sprayed with pesticides and fertilisers! "We need to look after the mini-beasts!" exclaimed the Year 4 students, as the flow of energy along the food chain stopped when mini-beasts populations were depleted. "There's nothing for the blue tits to eat anymore!"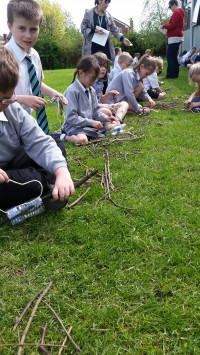 The Year 4's then set to work making bug hotels from recycled bottles and materials found in the school grounds to give mini-beasts a home, improving natural biodiversity and protecting the local environment on their doorstep.

Congratulations to all the Year 4 children at Gomersal St. Mary's Primary School for taking your own little steps to change the world in a fairandfunky workshop.
Photo: Gomersal St. Mary's in the Outdoor Classroom.
Sign up to our email newsletter to keep up to date with new products and our news!