Competition time with fairandfunky!
We are launching a children's recycling competition in conjunction with the fairandfunky family food day on 22nd September.

If you are 12 years and under – have a go at creating your very own fairandfunky feast using recycled materials on a paper plate. Bring it along on the day (to Holmfirth Market) and the most innovative and inspiring feast will WIN a hamper and a fairandfunky workshop for their school.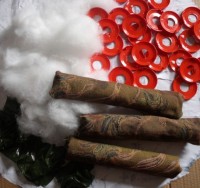 Here's one we made earlier – anyone for (veggie)bangers and mash with spaghetti hoops and broccoli?
For full details on the fairandfunky family FOOD day read our event blog here!
Sign up to our email newsletter to keep up to date with new products and our news!