Come On In to Fairtrade with Leys Fairtrade!
To celebrate Fairtrade Fortnight we're inviting friends, supporters and local businesses to share their ideas on how to #ComeOnIn to Fairtrade. Today we welcome Leys Fairtrade to the guest blog. We made friends with Leys Fairtrade on twitter and regular share ideas, and keep each other inspired. We love hearing what schools get up to to engage with Fairtrade and in today's guest blog Leys Fairtrade share ten quick and easy ways to take a step to change the world. Which step will you take?
"Here are our ten simple activity ideas delivered via #FairtradeHaiku along with some handy Fairtrade Hashtags for you to get involved with Fairtrade Fortnight where ever you are!
#FairtradeHaiku
Why not try Haiku?
Poems on a Fairtrade theme
Try to keep them short!
#ShareTheFairtradeCake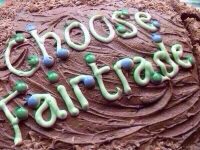 Baking this weekend?
Why not spread the Fairtrade love?
Share the fairtrade cake!
#FairtradeShelfie
Are you a book worm?
Any recommendations?
Ethical book pics!
#WhosInMyBasket
Producer stories:
Think! Who produces your goods?
Who's in YOUR basket?
#FTchats
Know any farmers?
Why not ask them some questions?
Chat about Fairtrade!
#WhoMadeMyClothes #FashRev
Try a fashion show!
Showing off Fairtrade clothing.
Ask: "Who made my clothes?"
#BananaArmy
Banana costumes:
Great conversation starter!
Just take a brave pill!
#FairtradeGoldArtistic children?Design some jewellery:

Made with Fairtrade gold!
#LeysFTconf
Why not organise
Fairtrade conference for schools
Moulding fresh new minds
#MeaningfulChocolate
Design your own cover:
Fairtrade chocolate wrapped inside
Sold for charity!"
We'd love to know what hashtags you use on social media to get people engaged with Fairtrade – why don't you tweet us your ideas @fair_funky!
Sign up to our email newsletter to keep up to date with new products and our news!