Come On In to Fairtrade with Koolskools!
To celebrate Fairtrade Fortnight we're inviting friends, supporters and local businesses to share their ideas on how to #ComeOnIn to Fairtrade. Today we welcome Koolskools to the guest blog. We're delighted to work with Koolskools and collaborate on many Fairtrade projects with schools and again welcome them to our Secondary Schools Fairtrade Conference 2018.
"Koolskools are delighted to contribute to fairandfunky's series of guest blogs for Fairtrade Fortnight 2018. The education side of the Koolskools business is really gaining momentum, in tandem with sales of our affordable Fairtrade school uniform. So, by popular demand, we have decided to introduce a quarterly newsletter!!
We want to keep our client and potential client schools abreast of some of the latest happenings on Fairtrade in general, and on Fairtrade cotton and Fairtrade school uniform in particular.
There's lots of Fairtrade educational material out there! The central reference point for Fairtrade school education is the Fairtrade Foundation's Schools micro-website, on the following link: https://schools.fairtrade.org.uk/.
Koolskools works closely with the Fairtrade Foundation, the Scottish Fair Trade Forum and Fair Trade Wales to join other Fairtrade-friendly companies – fairandfunky, Bala Sports Fairtrade Footballs, the Co-op and Divine Chocolate – to enhance that free Fairtrade education resource, and bring a hands-on Fairtrade business perspective to UK schools.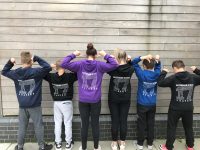 Read on to discover the highlights from the January 2018 first edition, and click here to read the newsletter in full! We hope that you enjoy this very first Koolskools newsletter, and that you will look out for our next quarterly edition in April. We will have lots more Fairtrade news, including news of our Fairtrade Fortnight travels, when we shall be flying the Koolskools Fairtrade cotton flag in Jersey for the first time, not to mention fairandfunky's school conference in Yorkshire!
Fairtrade Fortnight 2018 is rapidly approaching. Get ahead of the game with Koolskools in three ways:
The Unique Koolskools Fairtrade Lesson Plan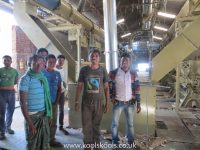 We can offer you some innovative Fairtrade teaching material to enhance your students' global education and Fairtrade Fortnight activities through our new Fairtrade Lesson Plan. Contact Andy on andy@koolskools.co.uk to gain access, and give your Fairtrade Fortnight a real boost!
Inspire Your Students with a free Koolskools Fairtrade Assembly
If you would like to arrange a Koolskools Fairtrade educational visit to your school either during or after Fairtrade Fortnight 2018, contact Andy on andy@koolskools.co.uk.
There is no better time to organise your 2018 Fairtrade Leavers' hoodies – this is a great way of dipping your school's toes into the Fairtrade uniform water for the first time. Like all our Fairtrade uniform, our hoodies are great quality, price competitive and we have plenty of colour choices.
Click here to visit our Leavers' hoodies page , and contact Andy on andy@koolskools.co.uk for your no-obligation hoodies quote.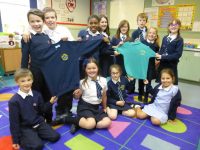 Hopefully you have been inspired by some of the stories allied to our Fairtrade project, and you might therefore like to learn more about how easy it is to convert some, or all, of your school dress to our great quality and affordable ethically manufactured Fairtrade uniform. Or, you might just want to be able to offer your students/parents an online Fairtrade uniform choice.
Koolskools can easily arrange any of these Fairtrade school uniform options for you, just contact Andy on andy@koolskools.co.uk and we will send you all the information you need to get started on your Fairtrade uniform journey."
Sign up to our email newsletter to keep up to date with new products and our news!