Christmas SCRAPtastic Crafts!
The Christmas holidays are here! And as there are still 5 days to go before the big day we have put together a few little Christmas SCRAPtastic ideas to keep you and perhaps more importantly, the children, occupied!
All fairandfunky SCRAPtastic crafts use recycled materials that you can find around the home: don't throw it away – make something! You could use paint, and pens to decorate your SCRAPtastic crafts but that does make a lot of mess….it's up to you! At fairandfunky we use PVA glue but sticky tape and other glues would work just as well.
We'd love to see your creations: do share photos of your finished Christmas SCRAPtastic with us on facebook,  twitter or Instagram.
Happy Christmas Crafting!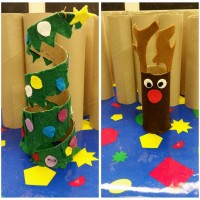 SCRAPtastic Number 1: Kitchen roll Christmas!
Simply gather together scraps of paper (Christmas card envelopes come in handy!) and turn your kitchen roll (or toilet roll!) tube into a Christmas character of your choice: Olaf, Rudolph, Father Christmas or a tree!
For full 'How to Make Olaf' instructions please read the Winter Issue of Scallmag!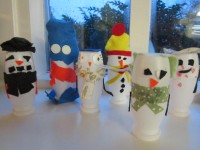 SCRAPtastic Number 2: Yoghurt pot snowmen!
Either use fabric scraps or sharpies to decorate a few yoghurt pots to make a snowman family. You could make enough to have a game of skittles to occupy the whole family for a while!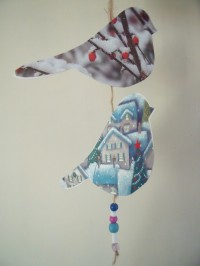 SCRAPtastic Number 3: Christmas card mobiles!
Perhaps a little early to be cutting up Christmas cards but these mobiles can also be made from cereal boxes and then decorated with scraps of wrapping paper, or coloured in. You can make absolutely any design: birds, stars, hearts, dinosaurs, cars…..anything!
You can google a template if you're stuck!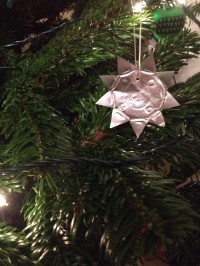 SCRAPtastic Number 4: Candle holder stars!
One for older children as the metal can get very sharp. Simply cut triangles around the end of a used tealight holder, squash down, and ta-dah….you have a star!
You can use a needle to thread a little cotton and hang on your tree, or use blutak to stick to your window for all to see and admire!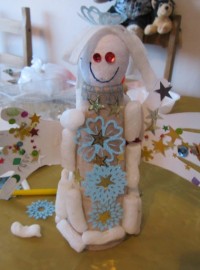 SCRAPtastic Number 5: Crazy Christmas Angels!
You need kitchen rolls, scrap paper, sparkly bits and pieces and a lot of imagination to make these angels! For the wings – draw round your hands on white paper, cut out, and stick on the tube. Old envelopes (opened out) are a great source of scrap white paper.
You can use a screwed up ball of paper for the head too!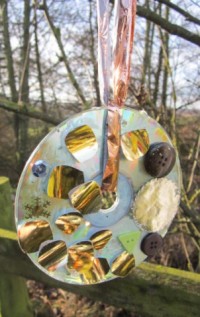 SCRAPtastic Number 6: Light catchers!
You may not have old CD's around the house…..but just in case you do, this craft is a really simple one to make a pretty light catcher.
Decorate the CD with sparkly bits and pieces: scraps of tinsel, tin foil, or milk bottle tops. Tie string or ribbon through the hole and hang in your window (or outside!) to catch the light!
Happy Christmas to you all!
Sign up to our email newsletter to keep up to date with new products and our news!