'Change the World' – Save Our Bees!
As many of you may know, bees are dying worldwide by the millions. At fairandfunky we think this is terrible news, as bees are a very important part of our ecosystem. Often, bees get exhausted buzzing about, so sometimes they need a bit of reviving.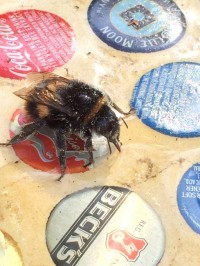 Last week we came across a dying bee, and knew there MUST be a way to save it! We thought we'd share this in a blog, so that YOU can also 'Change the World' in true fairandfunky style by saving our bees!
Here are some simple tips on how everyone can save dying bees, one at a time, even those of you living in the city. If you spot a dying bee (or bumble bee), don't throw it outside or kill it. You can save it! It's easy and often takes only a couple of minutes.
–   Don't be afraid of bees – just stay calm, they won't hurt or attack you.
–   If it's wet, bring it into a dry place.
–   Take a cup and dissolve sugar (not artificial or diet sweetener, just normal sugar) in a small quantity of water – something like a 2:1 ratio.
–   Put a spoon of your sugar water directly in front of the bee.
–   Observe the bee drink it and make sure that it doesn't end stuck in it (If it's stuck try to gently help it out).
–   Wait. In our experience, even extremely worn out bees will find enough force to drink some of the solution. After  anything between 1 and 5 minutes, the bee will stop drinking, wait a moment and suddenly start flying again.
It's that easy.
Without bees we would have no flowers, no fruit and no vegetables, so as you can see they're VERY important! Good luck saving bees, and don't forget, YOU can 'Change the World' when you do!
Sign up to our email newsletter to keep up to date with new products and our news!