Celebrate World Environment Day!
To mark World Environment Day we showcase three of our environmental workshops we run in schools which have both  local and global perspectives.
Let's Go Fly A Kite!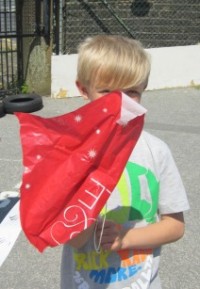 Did you know supermarkets give away 290 plastic bags per person every year and it takes 400 years for a plastic bag to decompose!
This workshop challenges students to think about their sense of place in the world and encourages individuals to take action to make a difference to their local environments and consider their global impact.
Each participant uses art and design skills to create a kite from a recycled plastic bag as well as using literacy skills in discussions and presentations.
"fairandfunky workshops are practical, varied in activity, informative and encourage creativity. They also make the 3R's real for the pupils" Y5 class teacher, St Thomas (CE) J&I School.
Eleplanters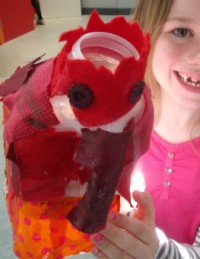 If you recycle one plastic bottle you save enough energy to power a lightbulb for three hours! So a class of 30 involved in this workshop would make a real difference!
This workshop empowers individuals to take little steps to change the world on their own doorstep and enables them to look after their local environment.
Using art and design skills each participant recycles a bottle into an elephant that never forgets to recycle AND a planter.
"fairandfunky workshops are well organised and well resourced. They provide practical, hands-on activities. They offer a clear message of sustainability." Headteacher, Holme J&I  School.
Butterflies and Bees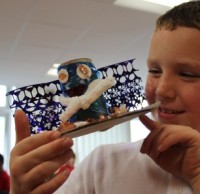 10% of the butterfly species in the UK are threatened with extinction! At fairandfunky we are determined to change this and ensure survival of butterflies and bees.
This workshop focuses on the importance of looking after local and global environments and empowers participants to understand their sense of place in the world.
Each participant will make a butterfly or bee pencil pot out of recycled materials developing their art and design skills.
All fairandfunky workshops are led by two members of staff: Helen Robinson and Sophie Bebb; both of whom are CRB checked. Helen is a trained primary teacher with experience across Kirklees, and teaching with VSO in Kenya. Sophie is a qualified artist with experience in leading community workshops, as well as working with the Oxfam Youth Board.
A fairandfunky workshop can be used within a class subject area or within enrichment during a specialised week. Each fairandfunky workshop teaches knowledge and understanding within social, moral, spiritual and cultural frameworks.
For the full range of workshops please visit http://www.fairandfunky.com/school-and-community-workshops/
To book a workshop or to discuss bespoke sessions for your individual class or school please contact helen@fairandfunky.com or sophie@fairandfunky.com
Sign up to our email newsletter to keep up to date with new products and our news!