Can you sponsor the fairandfunky Fairtrade Conference for Schools?
fairandfunky sponsorship opportunity at  The fairandfunky Fairtrade Conference for Schools.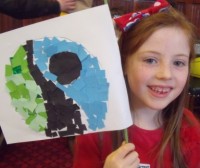 fairandfunky is a  Community Interest Company, based in Holmfirth, delivering creative workshops to schools and community groups on Fairtrade, recycling and the environment. Established in 2012 fairandfunky have quickly become the go-to organisation for sustainability workshops in Yorkshire.
Previous clients include: The Co-operative Group, Holmfirth Arts Festival, Chol Theatre, Kirklees Schools, Fairtrade Yorkshire. During Fairtrade Fortnight 2014 fairandfunky hosted an event with Jason McCartney MP in Parliament attended by 50 MPs and 3 schools. fairandfunky have also been commissioned by International Fair Trade Towns to create a recycled Fairtrade banner for their conference in 2015.
The fairandfunky Fairtrade Conference for Schools brings together Primary Schools from across Kirklees to celebrate and learn about Fairtrade through creative arts and education workshops for students and teachers. This is the first conference in Kirklees to combine Fairtrade and the arts, offering professional development for teachers and innovative learning for students.
Hosted at The Creative Media and Studio School with key presentations from fairandfunky, Shared Interest and The Fairtrade Foundation and creative workshops from leading practitioners Sea Pie Parcel, Coeur De Xocolat and fairandfunky the conference will empower people to take their own little steps to change the world.
The fairandfunky Fairtrade Conference for Schools takes place on March 6th 2015 as part of Fairtrade Fortnight 2015 and offers you an exciting sponsorship opportunity:
to promote your business to a new audience and potential clients,
to be involved in a new venture for Kirklees – combining Fairtrade and the arts, giving a positive message to your shareholders,
to demonstrate your commitment to Fairtrade and the local community.
OPTION 1 – fairandfunky Friend – £20 (unlimited!)
Sponsor the event for £20 and you will have brand promotion in 100 event bags giving you direct marketing to families and schools across Kirklees. We will also mention your business on social media networks throughout Fairtrade Fortnight. We will also post a link to a relevant website on the events page throughout this period.
OPTION 2 – Fairtrade Fanatic – £50 (only 10 available)
Sponsor the event for £50 and as well as the fairandfunky Friend package you will also have banner space at the event itself, focussed #FollowFriday tweets during Fairtrade Fortnight, a link to your business via facebook and a feature in the fairandfunky e-newsletter to schools and the general mailing list.
OPTION 3 – Conference Champion – £200 (only 5 available)
Sponsor the event for £200 and your logo will be printed on 100 event bags. You will also have a speaking opportunity in the workshops for teachers. We will add a permanent link to your business on www.fairandfunky.com, enable focussed social media activity during #YorkshireHour and #HuddersfieldHour. You will also have the opportunity to have a  guest blog editorial, as well as featuring in two fairandfunky e-newsletters.
This package also includes all the brand promotion opportunities from Option 1 and 2.
To be involved in this unique sponsorship opportunity please contact:  
helen@fairandfunky.com                                 
07596 501 749
Sign up to our email newsletter to keep up to date with new products and our news!