Bringing Passion for Chocolate to the Classroom!
Fairtrade Fortnight has arrived! As we get ready for our three School Conferences we invite fellow workshop providers to blog about the work they do. This week we welcome David Greenwood-Haigh from Coeur de Xocolat to the guest blog…..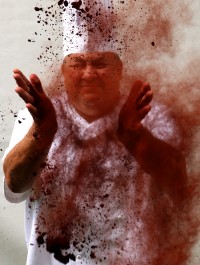 "I'm a qualified chef with more than 40 years' experience working in hotels and the food industry. Five years ago I left a role with Divine Chocolate to start my own chocolate adventure and setup Coeur de Xocolat. Now, I spend my life sharing my passion for chocolate with people all over the world.
I love making new, interesting and inspiring chocolates. I often use Fairtrade single origin, natural, real ingredients, no essences or flavourings. However, I am happiest when I am teaching whether it's in a university, college or school.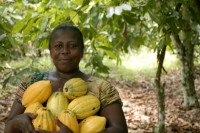 I love to bring the interesting and tasty world of chocolate into the classroom.  With real cocoa pods, cocoa beans and cocoa butter to see, touch and smell. The chocolate workshop I run at fairandfunky Conferences, follows the journey from cocoa bean to chocolate bar teaching how chocolate is actually made. I also spend some time showing some my photos and videos from cocoa farms Haiti and Ghana and telling the stories of the farmers and their families for us to contrast with our own.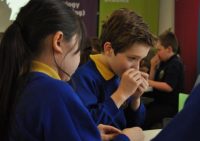 This is followed by a chocolate tasting. I love teaching students to taste chocolate using all their senses ( mindfulness).
I am always surprised how good they are at spotting the many different aromas contained within chocolate.
This is my fourth fairandfunky conference I am really pleased to be involved again with so many local schools, many of whom are, or are working towards becoming, Fairtrade schools. It's great watching the passion enthusiasm the students have when getting to grips with the challenges of international trade and what our response should be.
One group said, 'I don't think it's fair that farmers get paid the least, if it wasn't for them we wouldn't have chocolate!'
Then, I asked them how can we make this fairer?
'Buy Fairtrade!' was their answer!!
Fairtrade guarantees a fair price is paid to farmers. It also pays an added premium to invest in community projects: to build new schools, improve water supplies, invest in school buses, training and education for farmers and their families and more. Buying a Fairtrade product means the lives of farmers and their communities can be improved and each of us has the power to do just that.
Learning through Fairtrade opens up a fascinating world revealing how we are all connected. Curriculum based resources help to discover where our food comes from. If we buy Fairtrade we really can change lives. I feel blessed to be able to help students along the journey. And cannot wait to meet this year's groups."
Sign up to our email newsletter to keep up to date with new products and our news!