Banana Farmer Drama!
All fairandfunky workshops encourage participants to look at the world around them and empower people of all ages with the knowledge that their actions can have a positive impact on the world around them; both locally and globally.
Pockets Theatre creates exciting work that does something a little more than entertain; working with participants to create new and interesting drama that asks a tricky question, and shares untold stories.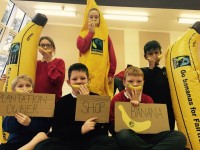 Together, fairandfunky and Pockets Theatre have developed 'Banana Farmer Drama' – a workshop using drama to teach global citizenship, literacy skills and geography and provoke an emotional response to Fairtrade. And held the very first session with Year 5 at Meltham CofE Primary School this month.
The session began with a quick succession of games – encouraging Class 12 to be both quick on their feet, and fast with their thinking! From buzzing bees, to number line, students had to be able to listen carefully, react on the spot and concentrate.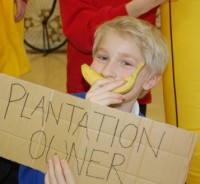 The children then considered the supply chain of bananas: from farm to fruit bowl. The students suggested different roles: from banana farmers to shipping companies; from truck drivers to shop keepers.
They discussed how it was possible to ensure every one along the supply chain was paid fairly for the work they did.  How can we make this fair? How would you feel to be a banana farmer?
The children looked at some of the jobs along the supply chain in more depth – banana farmers, farm owners, government, the shop and consumers. In each group students considered the fair and unfair behaviour that each role could perform. Students also discussed where they considered themselves to be; the drama studio was full of animated discussion around the livelihoods of each person along the supply chain, with some very passionate debating.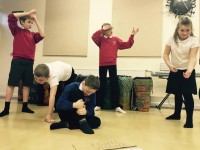 The students put themselves in the shoes of each person along the supply chain to create a snapshot, with a photograph depicting life as a banana farmer, a farm owner, the Government, a shop and a consumer; from both a fair and unfair perspective.
The photograph was built up in stages, first a still, then adding an action, then a sound to the action, with words being added to the final piece.
Each child took part in performing the finished photograph to their peers, and by adding all the images together, the students were able to see, feel and understand the profound differences between fair and unfair trade.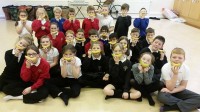 Through reflective discussion the children identified themselves as the consumer and made thoughtful comments:
"The performance made me want to do something to make change for the farmers."
"I think people should think more about buying things when they go shopping."
Congratulations to Class 12 at Meltham CofE Primary School for taking your own little steps to change the world in 'Banana Farmer Drama' with fairandfunky and Pockets Theatre.
Sign up to our email newsletter to keep up to date with new products and our news!