Back to School with Chocolate and Fairtrade
It's back to school for fairandfunky! And last week we joined Beech Primary School in Huddersfield to kick start their project on Africa with a Chocolate and Fairtrade workshop.
All fairandfunky workshops encourage participants to look at the world around them and empower people of all ages with the knowledge that their actions can have a positive impact on the world around them; both locally and globally.  This workshop focussed on Fairtrade as a way in which each of us can take little steps to change the world.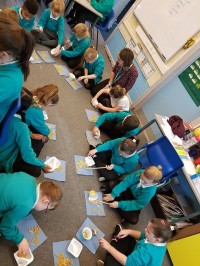 Throughout the workshop the students were challenged to think about the people behind products they use and buy every day.  Beginning with an 'experiment' all children needed to complete a simple task. However, this wasn't simple for everybody, as many didn't have all the resources needed. "It's not fair!" was heard around the classroom.
Discussions followed around trading rules and how countries don't have the same resources to compete in the global marketplace. How can we make this fair?
The children then considered the supply chain of chocolate, to answer the question: 'Where does chocolate come from?'The students listed different roles along the supply chain: from cocoa farmers to advertising companies; from truck drivers to shop keepers.
They were surprised at the number of people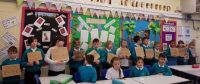 involved in getting chocolate to our shops. We discussed together how it was possible to ensure every one along the supply chain was paid fairly for the work they did.  How can we make this fair?
As a class the children then looked at some of the jobs along the supply chain in more depth, considering the roles and responsibilities of cocoa farmers, shops, shipping companies, other farmers and chocolate companies to decide the percentage each should be paid. The classroom was full of animated discussion.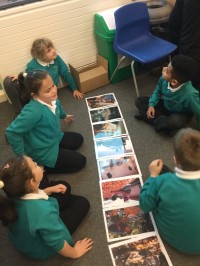 Each group then revealed how much they thought each role should be paid, with higher percentages going to cocoa farmers and shipping companies; leaving shops with the least. In reality the opposite is the case – farmers are paid very little for the work they do and this was received with gasps of horror from the children.
"I really don't think it's fair that farmers get paid the least, if it wasn't for them we wouldn't have chocolate!" The children were asked again – how can we make this fair?
Fairtrade guarantees a fair price is paid to farmers. It also pays an added premium to invest in community projects: to build new schools, improve water supplies, invest in school buses, training and education for farmers and their families and more. Buying a Fairtrade product means the lives of farmers and their communities can be improved and each of us has the power to do just that. Buy Fairtrade and change lives.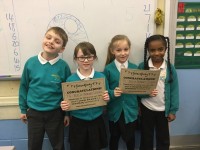 Children at Beech Primary told us about all the Fairtrade products they've spotted in the supermarkets;
"I'm going to buy some Fairtrade chocolate next time I go shopping," said one child!
Congratulations to all the Year 3 and Year 4 children at Beech Primary School for taking their own little steps to change the world in a fairandfunky workshop.
To book a workshop for your school or community group please email helen@fairandfunky.com
Sign up to our email newsletter to keep up to date with new products and our news!