Back to School with a Fairtrade Breakfast!
Show You Care about fair trade with a Traidcraft Breakfast Club!
Caroline Hardaker is the Schools Co-ordinator at Traidcraft, and we've invited her to tell you about how easy it is to integrate Breakfast Clubs and fair trade in schools, and all the while learning about world culture.
Hi everyone! Traidcraft is the UK's largest fair trade organisation, and we're passionate about showing young people the difference that they can make in the world, and we want to make it as easy as possible for teachers to do that too. Our website contains hundreds of free downloadable lesson plans, activities, assemblies, games, and event ideas for every term and every key stage. We're always adding to it too, so it's worth keeping an eye on the News & Competitions page!
This September, as part of Traidcraft's 'Show You Care' campaign, we're doing as much as we can to help schools convert their breakfast clubs to Traidcraft Breakfast Clubs, or even to set up a Club from scratch! We've created a straightforward step-by-step guide to setting up your Club, from finding a room to linked activities exploring world culture and human rights. There's even a certificate you can hang up! These are free to download from www.traidcraftschools.co.uk .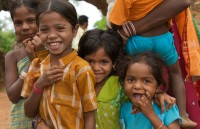 People around the world are connected by breakfasts. Our breakfasts often include coffee from Africa, tea from Asia, juice from South America, cereal, fruit, honey… Commodities from the four corners of the world. As Martin Luther King so correctly stated; we've already relied on the developing world before our day has even begun.
Traidcraft stock all kinds of breakfast foods, from muesli, fruit, jams, honey, and juice, to a huge range of coffees and teas for tired teachers, so there's scope for creating a new breakfast every day! There's no end to the learning opportunities too – as activities can focus on commodities, countries in the developing world, producer groups… You could even learn songs from the countries the breakfast is sourced from.
Holding a Traidcraft Breakfast Club can also help you become a Fairtrade School. Add a Club to your school action plan and you'll be demonstrating your determination to make fair trade a real part of your school routine. Your Club will also be evidence of your school using real fair trade products every day!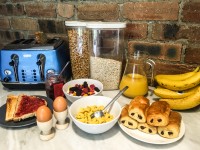 To help schools make the most of Breakfast Clubs (and we have hundreds of schools who also run tuck shops, healthy snack stalls, and fair trade bake offs), we offer schools an invoice facility and discounts on all our products (always between 10% and 15%) to make it a bit more affordable, and so you can fundraise for your own causes by charging for the goodies or for attendance to the Club. It's as easy as that! You can use the money raised for anything – some of our schools use it to fund a World Challenge school trip, and others donate it to a charity of their choice.
If you'd like to read more, visit www.traidcraftschools.co.uk or if you'd like to talk to Caroline or our Schools Team, call 0191 4973999 and you'll get straight through!
And when you DO start your Breakfast Club we'd love to see your photos – share on our facebook and twitter. And why not contact us to be the next to be a guest blogger!
Sign up to our email newsletter to keep up to date with new products and our news!